A 10km Loop Starting in Beadnell
I love a good point to point run but it always comes across the issue if transport at the start/end. Therefore a good loop is worth its weight in gold!
While marathon training a couple of years ago, I needed to find a 10km route while on holiday. This loop is almost perfect for the needs. At 10km with a few hillier bits plus some great views it ticks all the boxes. For my review I start at finish at the edge of Beadnell but the good thing with a loop, you can start anywhere along it!
Start Point: ///talkative.soils.polo
https://www.plotaroute.com/route/1995817?units=km
There is parking around the start area at the side of the green, although it can get a but busier. At worst case park at the Beadnell Bay car park and jog up, its about a km or so. From here you follow the main road towards Seahouses. There is a well made path alongside the road that I have run many times, even with my kids. This first stretch has a couple of undulations but it quite an easy start to the run.
As you approach the golf club you'll find a bit more of a rise but not really a hill that will bring you into the outskirts of Seahouses. By this point you are already 2km in and it is worth starting to look for an opportunity to cross the road as sometimes it can be slightly busier!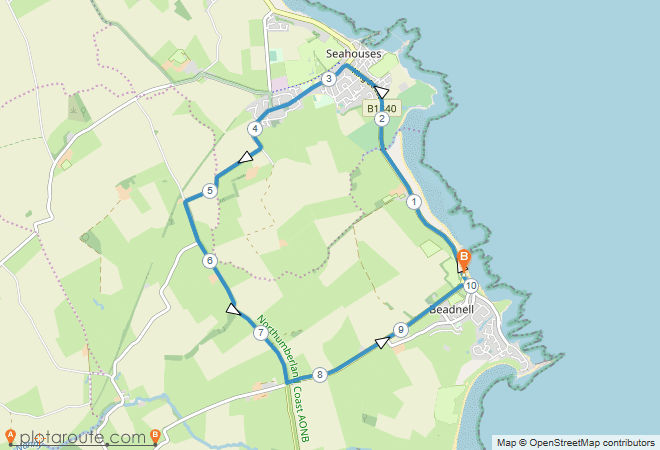 As you get into the centre of Seahouses, rather than head to the hustle and bustle of town you swing left towards North Sunderland. You're still on a path at this stage as you slowly climb a bit away from the coast. Keep following Main Street as you pass a couple of churches and the school then at around 4km in, the houses will come to and end and the path will stop.
At this stage you keep going straight on. Obviously as you are now on open roads take care but I have found them to be pretty quiet and safe to run on. Very soon the road will bear round to right and make sure you do too, to avoid going to a farm. You head up a slight rise past a bench that always makes me smile as it is seemingly in the middle of nowhere! Keep following the path of the road until just after 5km, you reach a T-junction where you will follow the road round to the left.
The next 2.5km in a straight line on the map but you need to be alert. Just 500m after you turned left, the road bears right but you want to head straight. (The right takes you to Fleetham which is a nice addition if you want to stretch out). The road heads downhill past a farm until you get a little dogleg as you cross a brook.
If you are pushing it then by this point your legs will be starting to tire a bit and the uphill back to the main road can be a little unfriendly! You are now back to the main road towards Beadnell so turn left and follow the main road. The first stretch of this road doesn't have a footpath but the verge is very wide so there are no issues, despite this road being a bit busier than those you have just been on. However, before you know it there is a path and you can follow this all the way home, a good section being downhill as well.
As you get back to where you started you just need to work your way round the green, just to ensure your watch gives you the 10km.
As I said, I have done this route several times and it has always been an enjoyable outing, especially as the hills give a little extra I don't get at home.
If you have done this route yourself, or have any questions, then please do leave a comment below!
Find all my Runs on the Road here!